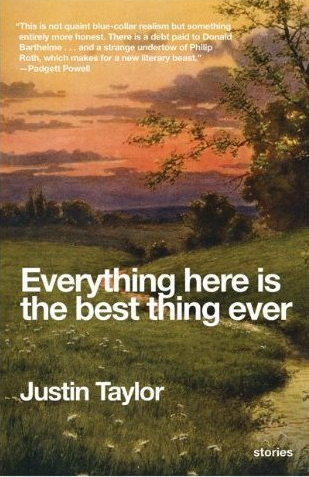 HarperPerennial, 2010.
Jacket Copy
Each story in this crystalline, spare, oddly moving collection cuts to the quick. Taylor's characters are guided by delusions and misapprehensions that quickly bring them to impasses with reality. Moving through this collection the reader will meet a young man who has reasoned away certain boundaries in relation to his budding, girl cousin; a high schooler whose desire to win back his crush leads him to experiment with goth magic; a man whose girlfriend is stolen by angels; and a Tetris player who, as the advancing white wall of the Apocalypse slowly churns up his driveway, decides that Death is a kindness.
Fearless and funny, Taylor imagines this and more, in a collection that paints a dark picture of his generation – one that is upwardly mobile yet adrift, fumbling for connection but hopelessly self-involved. And it's all held together by a thread of wounding humor and candid storytelling that marks Taylor as a distinct and emerging literary talent.
Blurbs
"The characters in Justin Taylor's stories may be lost, unmoored and out of control, but their creator is astonishingly sure-handed. He unerringly locates the center of these centerless lives, and discerns the shape of their shapelessness." – David Gates
"The world here is desolate, sexual, and its people are possessed of a brave cheer and do not whine. This is not quaint blue-collar realism but something entirely more honest. There is a debt paid to Donald Barthelme, gratifying to see, and a strange undertow of Philip Roth, which makes for a new literary beast. Mr. Taylor has perfect touch, to frightening effect, does not presume, has power, and promises us new things." – Padgett Powell
Selected Praise
The New York Times Book Review: **Editor's Choice.** This spare, sharp book–Taylor's debut collection–documents a deep authority on the unavoidable confusion of being young, disaffected and human. … [T]he most affecting stories in "Everything Here Is the Best Thing Ever" are as unpredictable as a careening drunk. They leave us with the heavy residue of an unsettling strangeness, and a new voice that readers–and writers, too–might be seeking out for decades to come." (read the review)
Publishers Weekly: Taylor's superb debut short story collection is explorative and fresh with well-crafted empathic characters. In A House in Our Arms, a young hedge fund assistant reconnects with his first love, Leah, in New York yet is drawn to Richard, an older man. Whistle Through Your Teeth and Spit has proud regulars of a Lower East Side coffee house commenting on and criticizing the new bourgeois clientele as they watch the neighborhood change around them. In My Heart I Am Already Gone, gives narrator Kyle the unpleasant job of putting down his uncle's cat, Buckles, all the while feeling terror that he will never escape his hometown or his on again/off again girlfriend. Each story is spare and clean and speaks the truth in beautiful resonant prose.
Booklist: "Short story lovers will enjoy Taylor's talent for flash fiction as well as his adept touch with the longer lengths that give him scope for a weird, ironic sense of humor and profound taste for the bizarre–one reads, laughs, and shudders simultaneously. Taylor examines relationships through the prism of tactile memory while using voice and point of view to create both ambiguity and suspense. […] These stories of Gen Y, told with panache, dark humor, and technical flash will delight short fiction fans of all ages." – Ellen Loughran
Bookforum: "Taylor's characters would like for time to both speed up and slow down – an impossible, inevitable wish that makes the moments he captures worth savoring." – Eryn Loeb
The Huffington Post: "My pen underlined often." – Jesse Kornbluth (read the review)
Kevin Killian: "…[A]fter reading the whole collection I have to tell you, there's no fiction writer I know with more promise, and more daring, than Justin Taylor right at this minute." (read the review)
Penthouse: Taylor etches his characters and settings in spare, affecting prose. Beautiful lines leap from the pages, and we gladly enter Taylor's vivid world, even as it transforms what we know about ourselves and others into something slippery and ever-changing.
Time Out New York: Four stars. "[W]hether Taylor is exploring youth, human bonds or fantastical scenarios, he displays a gift for illuminating the connections between the mundane and the grotesque. His next book, a novel, should be eagerly anticipated." – Jessica Ferri (read the review)
Oxford American: "In his first book of short stories, Taylor hones a dark-humored and character-themed collection in the tradition of Mary Gaitskill's BAD BEHAVIOR or Denis Johnson's JESUS' SON." (read the review)
Paste: "[A]rtfully captures the view of the 2000s from the perspective of a twentysomething. I'll be surprised if we don't find two standout pieces from this collection in prize-winning anthologies of 2010 short stories. 'In My Heart I Am Already Gone' reads like a suburban Barry Hannah… 'Jewels Flashing in the Night of Time' […] sticks in your head like a black thorn." – Charles McNair
The Millions: "There's a recklessness in how these stories are told and in the way they jump from one to another, a speed that borders on daring." – Theodore Wheeler (read the review)
Vol 1 Brooklyn: "Elliott Smith had a line in his song 'Between the Bars' about the 'people you've been before that you don't want around anymore.' If you ever thought that line rang true, you'll find a lot to savor here." – Tobias Carroll. (read the review)
The LA Times: "Justin Taylor is a master of the modern snapshot." (read the review)
The Boston Globe: "These short fictions by Justin Taylor give such a convincing account of the rough crossing of young adulthood that they practically induce seasickness. For his youthful protagonists, identity–emotional, intellectual, sexual–is unstable, constantly in motion." (read the review)
The Guardian: "Taylor's stories of disaffected 20-somethings, by turns funny, grotesque and moving, are most of all gloriously unpredictable." – Chris Power. (Read the rest of "A Quick Look at 2010 in Short Stories.")
Other reviews: You Fight Like Anne Rice, a video review by Michael Hemmingson, Blogcritics.org, The Charlotte Viewpoint, UWire (the College Network), The Signal (Georgia State University Student Newspaper), Creative Loafing, 34st.com, The PANK Blog, The Dover Post, It's Either Sadness or Euphoria…, The Collagist, Minneapolis Star-Tribune, Hipster Book Club, Wickedlocal.com / The Cape Ann Beacon, Bookslut.com, Open Letters Monthly, Financial Times, Too Many Books in the Kitchen (cross-published in SEE, an Edmonton, Alberta alt-weekly), Time Out Chicago (4 Stars), Fiction Addict, Flatman Crooked, KGB Bar Lit Magazine, and the thoroughly unimpressed Brooklyn Rail.