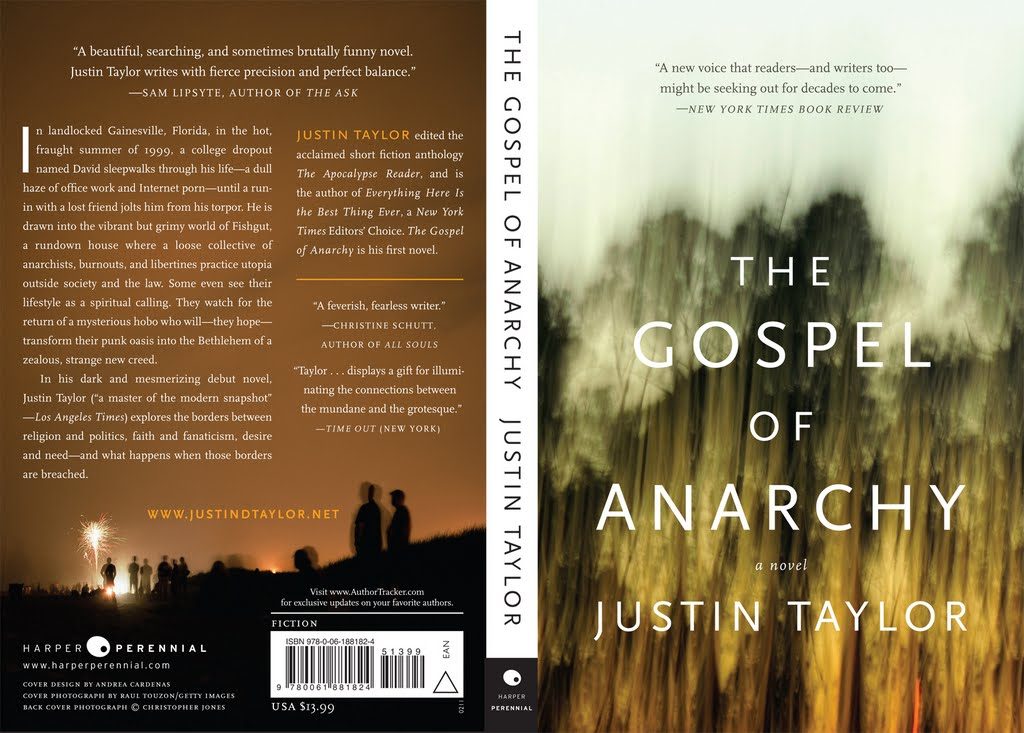 HarperPerennial, 2011.
"The Gospel of Anarchy is a beautiful, searching and sometimes brutally funny novel. Justin Taylor writes with fierce precision and perfect balance: the acts and pronouncements of his freegan utopianists may seem hilarious and deranged at times, but Taylor treats their yearning with the seriousness it deserves." –Sam Lipsyte, author of The Ask
"A feverish, fearless writer, Justin Taylor delivers 'blessed pleasure' in translating the 'baffling Christ babble' in The Gospel of Anarchy, a novel whose shiftless characters, in search of completion and contentment, must wrestle with that prerequisite of faith: a willingness to believe in the unseen." –Christine Schutt, author of All Souls, finalist for the 2009 Pulitzer Prize
"A BRILLIANT DEBUT NOVEL YOU HAVE TO READ." – Details
This is a book of intense visions and overwhelming quiet, where one can literally be consumed by grace." – Horn! Reviews at The Rumpus
"[T]his funny, sharp-tongued book takes us to a world both familiar and absolutely unique as seen through the eyes of a ragged gang of well-drawn and surprisingly relatable characters… You'll be blown away by this book, re-reading it for years to come." – Black Book
"[I]ts looming questions and cracked worldview are sure to stick around in your consciousness, relentlessly stalking a ground they won't give up anytime soon." – Nylon
"[A] bold casserole of sensual encounter and deranged proclamation… Loudly, even rapturously, Taylor succeeds in making the clamoring passion of his characters real, their raw, mercurial yearning a cry for 'a world newly established.' In terms of acts of God, The Gospel of Anarchy is a tornado, tearing up the hill where rock 'n roll and cult meet." – The Millions
"Justin Taylor, with The Gospel of Anarchy, has achieved a near-perfect balance between writing a great novel about lost youths and a history of the late '90s counterculture." – The Faster Times
"[Taylor's] description of life outside of society's boundaries is vivid and convincing, reading almost as reportage. Whether the author went undercover or not, he certainly offers a poignant insight into disaffected youth in contemporary America, here portrayed in all its crumbling, end of Empire glory." – ABC Radio National (Australia)
"[A]n intellectually bracing read… Justin Taylor…knows his subcultures well, and most importantly he takes their believers seriously. Here's my first recommended novel of 2011." – Levi Asher, LitKicks
[FOUR STARS] "As in his story collection, Everything Here Is the Best Thing Ever, Taylor has a natural sense for what makes intelligent young people tick and, occasionally, drop out." – Time Out (Chicago), reprinted in Time Out (Dubai)
"Where Justin Taylor excels is in probing his characters' emotional vulnerabilities… With subtlety and sophistication, Taylor also demonstrates the mesmerizing effects of faith." – Paste
"As serious as any of it may get, he never loses his sense of humor (punk is supposed to be a little bit funny, right?). Taylor builds greatly but also laughs at the greatness he's built. It's brave because it is honest." – Vice
"[A] thoughtful miniaturist with an intuitive knack for the well-chosen detail….Taylor's noble goal is to remind those of us long past our own difficult youths of the grace and beauty to be found even in a 'bunch of drunkpunks in the armpit of Florida.'" – New York Times Book Review
"The Gospel of Anarchy bottles misguided youth with all its heartfelt optimism, anthemic punk, and questionable body odors. Harper Perennial's only mistake here is not including a soundtrack with your purchase. Propagandhi, anyone?" – Art Info
"With fluidity and zest, Taylor dramatizes the dynamics of a socially invisible subculture. Point of view shifts, while frequent, are not dizzying. The depiction of Gainesville is spot-on; Taylor expertly captures the city and its environs. As for the sex scenes, they are realistic and arousing. Decency standards prohibit me from giving an example. But the orgy scene may inspire a 'protracted round of chafing succor,' as one of Fishgut's cohabitants would say." – The Miami Herald
"It's an insane idea, but Taylor pulls it off…. The Gospel of Anarchy is a beautiful meeting of Don Delillo, Philip Roth and Aaron Cometbus." – Jason Diamond, Vol. 1 Brooklyn
"[W]ildly ambitious and yet deeply intimate…There's degradation and transcendence in equal measure: Vollmann's The Royal Family by way of ABC No Rio." – Tobias Carroll, Vol 1. Brooklyn
"I've always thought that there was some really interesting narrative terrain in that weird intersection between freeganism and fundamentalism, and I'm glad to see Taylor got there before some schmuck wrecked it." – Matthew Derby, author of Super Flat Times
"[A] beautiful book about human weakness and our desire to connect and grow, our need for something bigger than ourselves." – Devourer of Books
Some much-appreciated love from the Daily Nebraskan.
"Once again, Taylor blends the competing heat of religious fervor, threatening politics, and nihilistic sex, yielding dangerous results." – Oxford American.
"These days, all the cool kids write about pharmaceuticals and cognitive science. In his first novel, The Gospel of Anarchy Justin Taylor makes his attempt to diagnose the mal du siecle by grappling with matters of faith." – New York Observer
Dennis Cooper calls Gospel "one of three books I read recently and loved."
Recommended by the Jewish Book Council.
"Taylor interweaves youthful dialogue with religious rhetoric, exploring what would happen if everyone did what was good for everyone, and the corporate world burned to the ground. – Interview.
"If Claire Messud's The Emperor's Children showed upper-class New Yorkers in the not-yet upended world before 9/11, this book does the same for the small-town anarchists, believers and the Burning Man-inclined." – Los Angeles Times
"I noticed that behind the vulgarity, Taylor's words had a vital rhythm, with under-lineable sentences increasing in frequency, calling DeLillo to mind." – the Brooklyn Rail
"Taylor's writing…is exceptionally good. Locally, the sentences are incisive and tumbling. But what's even more powerful is the way those sentences accumulate into larger ideas." – Brian Evenson, Bookforum
"This book is a pipe bomb. … Taylor is an undeniable talent with a contemporary voice that this new generation of skeptics has long awaited–a young champion of literature." –New York Press
"Taylor is an adept diagnostician of his characters' conflicted, convoluted, and self-sabotaging desires." – The L Magazine
"Justin Taylor exposes the fine line between making life choices and living a deluded reality, deftly illustrating how taking things too far or too literally can distort their true meaning and intent." –New York Journal of Books
"Taylor has a talent for setting a scene, and the emotions he pens come across as visceral to readers." – Bookreporter.com
Michael Hingston, of Too Many Books in the Kitchen, writes: "Despite my instincts, I came out actually wanting to like his assortment of pansexual rabble-rousers."
Christopher Vola calls Gospel "a beautifully dark first novel about the need for genuine connection, both human and holy, in an era that too often seems cold and sterile." Vola's blog, by the way, borrows its name ("Small Drunken Cog in a Giant Destructive Empire") from a wonderful poem by Joshua Beckman.
Phoebe North recalls her own experience of Gainesville, FL, in light of her reading of Gospel. One of my favorite passages- "I found in his pages Gainesville–my Gainesville, the very specific, very strange geography (it's like an island, really. An island in a sea of mosquitos and deep south), the colors and the smells. … This was my Gainesville, too. But Taylor's Gainesville is also a place I never knew. A place of transcendental threesomes. A place of dropping out. A place where the consciousness is nearly collective, because even in Taylor's prose it jumps from person to person but this makes utter sense, even though I never knew this to happen in my Gainesville because I was still, utterly, irrevocably myself."
David Backer writes a deeply-considered essay-review — "The Gospel of Anarchy in general, disturbed me. In a great way. […] Instead of Zarathustra's cave, their context is a punk safehouse in Gainesville called "Fishgut," a remarkably well-named place in light of early Christianity's symbol-of-choice. The de(a)scent into overcoming is remarkably depicted. I felt it deeply."
Christopher X.J. Jensen, an evolutionary biologist, discusses Gospel in his "Science in Art and Design" series.
BOOKLIST: "A provocative debut novel… Writing from various perspectives in a wholly captivating style, Taylor traces the delicate lines between freedom, spirituality, politics, and happiness, depicting a lifestyle both hopeful and flawed." – Jonathan Fullmer
KIRKUS: "Taylor writes sex wonderfully well."
And PUBLISHERS WEEKLY, who might have–but didn't–intend the following as praise: "Taylor can set a scene, but he takes his characters and their screwy subculture so seriously that you'd think he, himself, was a convert."